Tag Archives: margarita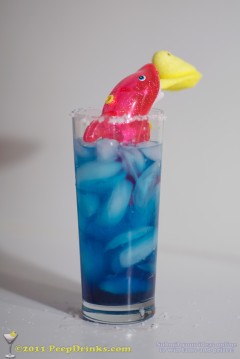 Two parts margarita, one part blue curaçao, three parts stupidity.
"Laugh it up, fuzzball!"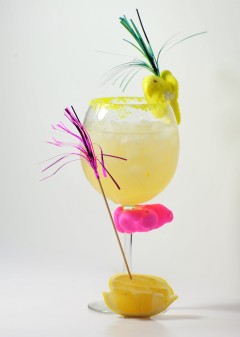 6oz Sauza Hornitos Tequila
4oz Triple Sec or Cointreau
2oz Grand Marnier
4oz Lime juice
2tbsp Confectioners' sugar
1 row of frozen peeps
1 non-frozen peep (garnishes and other extras optional)
1. Fill a martini glass with crushed ice and cold water, to begin chilling the glass.
2. Over a small plate or cutting board, rub the whole row of peeps between your hands until the frozen and colored sugar coating rains onto the surface below.  This will be a messy nuisance, getting all over your hands — just deal with it.
3. Fill a large shaker with ice cubes, add tequila and triple sec first, then lime juice and confectioners' sugar (or substitute 2oz simple syrup).
4. Dump the icewater from the martini glass, and rub the upside-down glass in the "peep dust" to create the colored sugar rim.
5. Carefully refill the glass with crushed ice.
6. Shake the shaker, strain into martini glass over the crushed ice, and garnish as illustrated.
Alternate presentations: