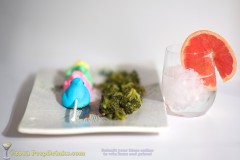 The Japanese call it "Shochu". The Koreans call it "Soju". Kinda like the Russians' "Wodka". Or the Hillbillies' "Hootch".
But straight distilled grain spirits by any other name would still be Peeptastic in our book!
2oz Japanese Rice Liquor
over ice
1 slice Pink Grapefruit
1 skewer of impaled peeps, assorted colors
We choose to plate this with gently steamed broccoli florets, drizzled in a Yuzu Teriyaki sauce.