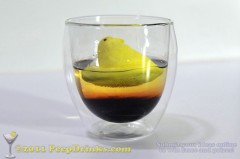 Perfect for Memorial Day parties, this college classic never gets old. Or, if it does, I can't seem to remember it.
2 oz vodka

1 oz Kahlúa

1 oz club soda

1 reckless peep

1 drinking straw
Pour vodka into a short, wide glass. Next is the trickiest part – with the glass on table, very gently pour in a little Kahlúa. To get the "layer" effect, it must be added extremely gently. The best way is to hold a spoon in the glass, just above the surface of the vodka, and pour the tequila onto the spoon, letting it trickle down. The Kahlúa is heavier, so it will sink below the vodka. Think "eye-dropper", it really has to be that slow. You may be able to use the edge of the glass to help.
Once you've got those two layers, do the same thing with a little bit of club soda or seltzer. Viewed from the side, you should be able to see all three layers (the vodka will be swirly).
Don't forget to add the peep, for moral support.
To drink this peepcoction, hold the straw vertically, lean over the glass, and put a straw all the way to the bottom. Suck the entire drink through the straw all at once — you'll have a great view, as the dark Kahlúa disappears and the drink turns clear. If you do it all at once, the first thing you taste is coffee, and the club soda at the end will clear and refresh your palate.
Just don't have too many…