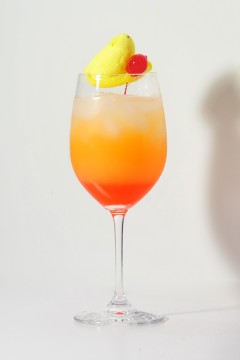 1.5oz Jose Cuervo Tequila
3/4 cup fresh orange juice
1.5oz grenadine syrup
1 maraschino cherry
Don't forget the Peep!
Stir or shake together tequila and orange juice. Fill a chilled 12 ounce glass with ice cubes; pour in orange juice mixture. Slowly pour in the grenadine, and allow it to settle to the bottom of the glass (be patient). Garnish with a an orange slice (optional), a maraschino cherry, and a marshmallow peep!