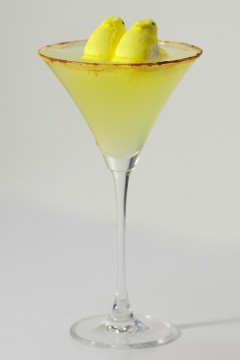 2oz Pear-Infused Brandy
4oz Ketel One Vodka
1oz Dry Vermouth
Ground Cinnamon
2 peeps, still stuck together
Place cinnamon on a saucer. Wet the rim of the martini glass, and slide it around upside-down on the saucer to apply the cinnamon rim. Fill a large shaker with ice, and add all three ingredients. Strain into martini glass, carefully avoiding the cinnamon, and float two peeps on top as garnish.